Physiotherapy
From Munich back to Neuruppin: we are thrilled to welcome the highly skilled, renowned physiotherapist and trained osteopath Christoph Pawlowski-Hegermann to the birthplace of Theodor Fontane. His expertise spans from head to foot and forms the basis for his holistic view of the human body. It demands a broad spectrum of knowledge, combined with sensitivity and skilled dexterity.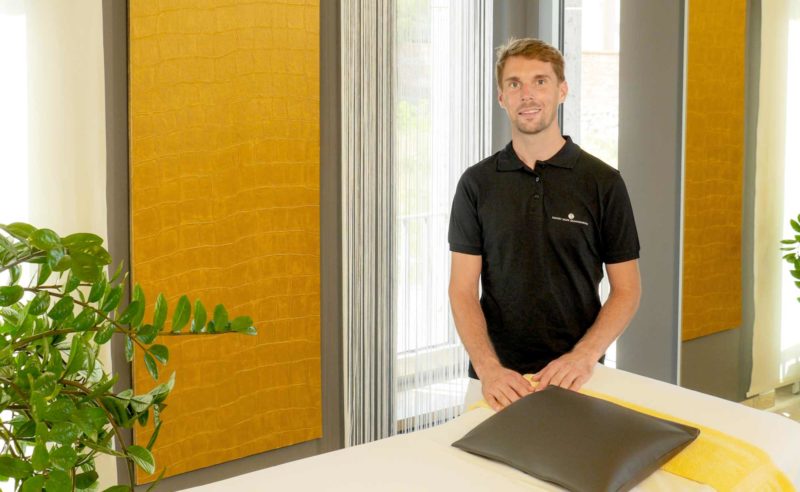 Combine a holiday with health and take advantage of your chance to have a specialist attend to your physical ailments. We recommend booking early to guarantee that you can enjoy your desired treatment during your stay with us.
TREATMENTS
PHYSIOTHERAPY TREATMENT INCL. MANUAL THERAPY
The therapist will respond to your individual complaints, investigate the interrelating causes of the issue and will then choose the most effective treatment.
MANUAL LYMPHATIC DRAINAGE
A purifying lymphatic drainage is relaxing for the body and soul.
TRIGGER POINT THERAPY
Relieve tension with this intense and highly effective trigger point therapy. The perfect treatment for really deep-rooted problems.
SPORTS MASSAGE
Even athletes need a little relaxation every now and again. This special type of massage relaxes your muscles, so you are ready to take on the greatest challenges.
CRANIOMANDIBULAR THERAPY
The causes of problems concerning the mandibular joint, or the jaw, are as varied as the leaves in autumn. Stress, tension in the craniosacral system or incorrect dental fillings can all be to blame. After a thorough investigation, the physiotherapist will seek to resolve your issues and provide useful tips.
CRANIOSACRAL TECHNIQUES
The skull consists of 22 interconnected bones and the tension between these can fall out of balance due to a number of reasons. Gentle manipulations release this tension, which in turn can solve many problems relating to the body, such as headaches.
MYOFASCIAL THERAPY
Treating the fasciae can resolve issues which often appear in a very different part of the body and can restore mobility to areas that have been immobile for long periods.