Beauty & Spa
Today is the perfect day to put yourself first for a change. Don't you agree? Our team at BEAUTY & SPA are very much on the same wavelength: we are totally dedicated to your well-being.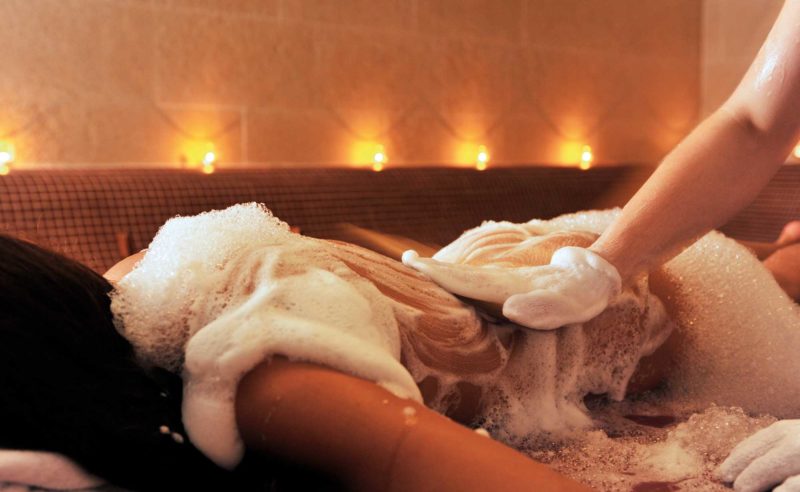 NATURAL. BEAUTIFUL. HEALTHY.
From now on, we won't be signing any contracts with showy beauty product brands, which tie us to ritualised treatments. Instead, we will be working with locally sourced, soil-enriched oils and our brand-new range, which is based on our very own healing salt water. This healing salt water is so beneficial in the pools, it follows that it can also be highly beneficial when used in beauty products. We are only at the beginning of our journey – but we are already really excited to find out what you think.
MASSAGES & RITUALS
BACK MASSAGE
Your most important supporting element needs looking after. Gentle expansive movements, static pressure and classic massage techniques focusing on your back, head, face, neck and arms help to relieve tension and boost skin circulation.
THE CLASSIC
A gentle and relaxing full-body massage – classic massage techniques give you an immediate sense of well-being.
FUSION
A combination of massage techniques and movements from the Ayurvedic, Thai and Swedish massage schools, perfectly tailored to your personal needs. Dynamic techniques are interspersed with long, gentle movements to pamper your body, head and face.
GROUNDING
It is completely fine if you decide that you don't want us to treat you without the security of your clothing. For these guests, we recommend this considerate foot and ankle massage. You are welcome to wear your underwear and a T-shirt; or you can come in your bathrobe.
FLOWER DREAMS
The refreshing peeling treatment with hay flowers and apricot kernels lets you shine like the sun and helps to stimulate the microcirculation. This treatment is an ideal preparation for absorbing the following active ingredients, which are applied to the skin with relaxing massage strokes.
PURE ASIA
Choose between therapeutic relaxation with a classic Asian massage or a stretching treatment to boost the condition of your body: the Thai Yoga massage combines Balinese and Shiatsu elements and stimulates your body's chakras by applying pressure to the hands and feet. Simply decide on your preference when you arrive at the spa.
THE TUB IS FULL ... OF HEALING SALT WATER
Treat yourself to a meditative relaxation and enjoy the feeling of a pool full of good health. All of our knowledge, fine minerals and beneficial active ingredients can be found in the Fontane spring's naturally healing salt water. You can also choose to share this experience with a companion in the Ying Yang tub.
FULL BATH FUSION PACKAGE
The perfect way to round off your bath in the healing salt water: a shorter version of the FUSION treatment, lasting 50 minutes per person.
FACIALS
FOR EVERYONE
A foundation treatment including cleansing, light peeling, eyebrow shaping, deep cleansing and a facial massage, concluding with a serum treatment.
ONE FOR THE SUMMER
We apply a special enzymatic peeling during the foundation treatment and then perform a skin brushing massage – something to truly look forward to. In addition, you can enjoy a highly effective mask treatment and a hand and arm massage.
eyelashes & eyebrows
eyelash tinting
Only bookable in combination with a facial treatment
eyebrow tinting
Only bookable in combination with a facial treatment
EYELASH TINTING INCL. EYEBROW TINTING
Only bookable in combination with a facial treatment