Beauty & Spa
Today is the perfect day to put yourself first for a change. Don't you agree? Our team at BEAUTY & SPA are very much on the same wavelength: we are totally dedicated to your well-being.
CLASSIC MASSAGES
PAMPERING FULL BODY MASSAGE
A massage designed to bring harmony to the whole body, featuring sesame oil or grape seed oil.
RELAXING BACK MASSAGE
The back, neck and shoulders are the main focus of this massage, which releases tension and nourishes the skin. We use sesame oil or grape seed oil for this massage.
FACE/NECK/DÉCOLLETÉ
The skin is exfoliated, cleansed and aromatised. An ampoule full of active ingredients is applied; the area is then moisturised before a mask is applied. The treatment concludes with a nourishing skin treatment. A head massage with oil is also included. After the treatment, you will feel reborn and radiant.
RELAXING HEAD AND FOOT MASSAGE
It is completely fine if you decide that you don't want us to treat you without the security of your clothing. In this case, we recommend this respectful massage, which treats your feet (up to your knees) and your head (in full). You can choose between aloe vera gel or your favourite essential oil. We will ensure that you can relax completely. You are welcome to wear your underwear and a T-shirt; or you can come in your swimsuit.
REFLEXOLOGY
First, your feet are exfoliated with our establishment's very own healing salt. The expert hands of our therapists will then combine with natural oils to press all the right buttons so that you can enjoy deep relaxation. This is not a medical treatment. 
COSMETICS
RADIANTLY BEAUTIFUL
… see an immediate difference. Classic cosmetic treatment with Phyris products. These products are used based on your skin type and thoroughly cleanse, regenerate, refresh and pamper your skin. 
FOR MEN
We believe that men's skin requires special treatment and needs to be cared for. This is a classic cosmetic treatment featuring valuable products, which restore your skin's moisture levels and leave your skin looking radiant. 
PERFECT CARE
This takes a little more time. So that it can be applied properly and can gradually reveal its effect. You can look forward to a highly effective, nourishing facial. For women, this includes eyelash and eyebrow tinting, and eyebrow correction. Men who would prefer a different treatment can enjoy a hand or foot massage.
Thai massages
Thai legs – feet
only available on wednesday
Thai back – neck – head
only available on wednesday
Thai full body
only available on wednesday
Manicures and pedicures
MANICURE
Start with a relaxing hand bath and then enjoy a gentle peeling, nail correction, a massage and a final care routine. Pure indulgence. 
PEDICURE
Velvety soft, nourished feet – the pedicure includes an aromatic foot bath, a peeling, nail correction and a massage. 
SAUNA RITUALS
SALT MASSAGE (FOR ONE PERSON)
Nourishing massage with aqua peeling salt to gently stimulate the circulation – for silky soft skin.
RASUL TREATMENT (FOR 2 PEOPLE OR MORE)
A special cleansing ceremony with nourishing mud and healing chalk to stimulate the body and soul.
HAMMAM TREATMENT (FOR ONE PERSON)
Traditional soap lather massage with the traditional peeling glove, rinsed with warm running water.
BATHS
BATHE IN OUR OWN NATURALLY HEALING SALT WATER
Float in water with a salt concentration of around 3% – including as a pair in the double Ying Yang bath. The very best thing that you can do for yourself. The salt water helps you to fully relax, calms your skin, cleanses right down to the pores and boosts your immune system.
LUXURY AROMA BATH
The focus here is on feeling amazing and giving yourself time to drift away. Let the aromatic bath oil take effect, chat with your partner, drink some prosecco and simply enjoy life. 
SPA FOR A DAY
Slip into a fluffy bathrobe, put your feet up and relax your body and soul with views of the Ruppiner See. By the time you have enjoyed an indulgent massage and the wonderful, regional buffet at the bistro, you are sure to be fully relaxed.
WE LOOK FORWARD TO RECEIVING YOUR BOOKING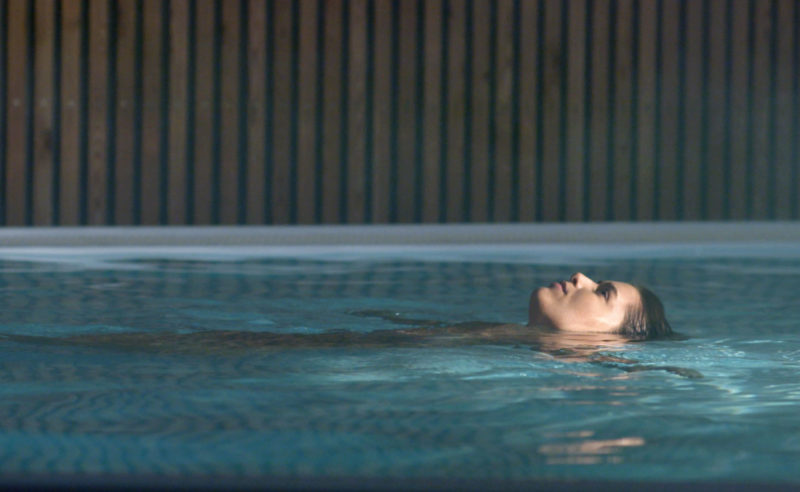 THE RELAXATION YOU DESIRE
HAPPY HOURS
Day pass from 10am to 10pm
full-body massage, 50 minutes
Refreshments as part of the entire day package
Bathrobe and two towels for your spa day